2017 – Bruce Chudacoff (USA)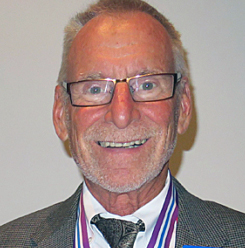 Bruce Chudacoff spent several years as the chairman of the National Jewish Committee on Scouting of the BSA during which he expanded the role of international Jewish Scouting in the BSA. He has been instrumental in establishing an active committee which has sought to create and maintain significant contacts with Jewish Scouts and their organizations in other countries. In particular, he has contributed to the expansion of the International Forum of Jewish Scouts by assisting in the formation of the Nachshon Fellowship and the Shalom Award.
He has met with the leadership of the Israel Boy and Girl Scout Association in Israel and fostered active contacts between that organization and the NJCOS.
He has championed the cause of Scouting by monitoring the actions of WOSM in dealing with the Palestinian Scout Association and has proposed initiatives to begin to establish relationships between Scouting groups of all religions by such actions as the creation of a multi-religious holiday calendar on the internet and establishing and maintaining cordial relationships with all religious groups.
Through the vision that Bruce Chudacoff has imparted to the NJCOS he has raised the importance of world Jewish Scouting and solidarity among our Jewish Scout groups.
NOMINEE'S MAJOR ELECTED AND APPOINTED SCOUTING POSITIONS
Bay-Lakes Council, Appleton, Wisconsin
1979-2015 Board and Executive Committee Member
Positions Held:
Legal Counsel, Vice-President for Administration, Vice-President for Operations, Council Jamboree Contingent chairman, University of Scouting Chairman
Council Encampment positions:
Administration Chairman, Logistics Chairman, Overall Chairman
Food Good Turn Logistics Chairman (first good turn)
1980s-2015 National Meeting voting and nonvoting delegate
Council Friends of Scouting Family Campaign Chairman
Provided legal work to merge Bay-Lakes Council and Hiawathaland Council
Established the first 2-deep leader policy for child protection
Northeast Illinois Council, Highland Park, Illinois
2016-Present Advisory Board Member
2016-Present National Meeting nonvoting delegate
2016-Present Member, Council Jewish Committee on Scouting
1980s-Present National Jewish Committee on Scouting
Positions Held:
Long Range Planning Chairman
Philmont Course Instructor
Bylaws Chairman
Jamboree Chairman
Marketing Chairman
2013-Present Chairman
1962-66 Alpha Phi Omega, Scouting Alumni Fraternity
SCOUTING RECOGNITIONS
1959 Eagle Scout with Bronze and Silver Palms
Ner Tamid Emblem
Silver Beaver
2001 Distinguished Eagle Scout
NON SCOUTING POSITIONS (at various times)
1969-2015 Partner, Block, Seymour, Chudacoff, Samson & Liebzeit (and predecessor firms)
1969-Present  Member, Wisconsin State Bar Association
1970-1971 Captain, U.S. Army Intelligence Vietnam service in J2 Targets Division, MACV HQ
Army Commendation Medal
1969-2015
Wisconsin Real Estate Broker
President, Outagamie County Bar Association Legal Aid Society
Bank Director, Outagamie Bank and First Interstate Bank (chairman of the board)
Member, Appleton Mayor's task force on juvenile violence
Chairman, Fox Cities Chapter, National Conference of Christians and Jews
Post Commander, Jewish War Veterans of Northeast Wisconsin
Founder of Northeastern Wisconsin University of Michigan Alumni Association
Member, American Legion
Member, Veterans of Foreign Wars
Founder, Outagamie County Veterans Council
Member, Amvets
State Chairman, Israel Bond organization
Moses Montefiore Synagogue, Appleton, Wisconsin
Positions held:
ritual committee chairman, treasurer, ritual president, ritual vice president
Co-author of two haggadahs used in community seders
Gabai, Haftorah reader, part-time lay Shabbat service leader
Temple Beth El, North Port, Florida
2017 President
Congregation Beth Shalom, Northbrook, Illinois, member
Appleton Downtown, Inc. Façade Committee member through 2014
Founder, Soldiers' Square Businessmen's Association
Palm Island Village I board of directors and secretary
Palm Island North Property Owners board of directors and secretary
Director, Appleton Chapter of Planned Parenthood
Director, Visiting Nurses Association
Chairman, Outagamie County Republican Party
Member of resolutions and rules committees for Wisconsin Republican Party
Advisor and campaign treasurer for Congressmen Toby Roth and Steve Kagen, 24 years
1981-Present: Partner, College Avenue Associates,
Co-owner, Wisconsin Flyers Basketball Team, CBA
Associate Life Member, Hadassah
Advisor to organizations including Fox Valley Humane Association, Fox Valley Islamic Society, Northeast Wisconsin Hindu Temple, Community Clothes Closet
Creator and Race Director, Santa Scamper, Appleton, Wisconsin
Former marathon runner
Green Bay Packer shareholder
Co-author of novels The Key to the Map, The Pirate Skeleton
NON SCOUTING RECOGNITIONS
Gates of Jerusalem Medal, Wisconsin Israel Bond organization
Bernie Pearlman Businessman of the Year, Appleton, Wisconsin
EDUCATION
A.B. with Distinction, University of Michigan 1966
J.D., Harvard Law School, 1969
PERSONAL
Born: Appleton, Wisconsin 1944
Married: Nancy Willets Chudacoff 1968
Children: Tanya, Tamara and Joshua (Eagle Scout), all married, each with two children
In Brazil:
2007-2009: member of the National Board
2007-2010: International Commissioner
2004-2007: Deputy International Commissioner
2002: member of the International Team
Worked on different National and Subnational committees.
In Mexico:
2011-2014: member of the National Board
2011-2012: International Commissioner
Received different recognitions from several Scout Organizations.
– the Tiradentes Award, the Gold and the Silver Service Awards and the Silver Gratitude Award (Brazil)
– the Silver Jaguar and the Silver Eagle awards (Mexico)
– the International Friendship Award (South Korea)
– the Centenary of Scouting Award (Malaysia)
He is a B-P Fellow (World Scout Foundation), an Order of the Condor member (Interamerican Scout Foundation) and an Order of the Fleur de Lis member (Brazilian National Scout Fund).
Attended the last four World Scout Conferences (Brazil, Korea, Tunisia and Greece), the last four Interamerican Scout Conferences (Argentina, Panama, Ecuador and El Salvador), the last two Interamerican Scout Summits (Panama and Colombia), one Asia-Pacific Scout Conference (Malaysia).
Also attended three World Scout Jamborees (UK, Chile and Holland), three Interamerican Scout Jamborees (Colombia, Brazil and Guatemala) and one Asia-Pacific Scout Jamboree (Philippines).
Degree in Civil Engineering (Brazil), Graduate studies in Management and Strategic Planning (Brazil) and Master in Business Administration (Mexico & Philippines). Experience on sales and marketing management in global pharmaceutical companies, being recognized for outstanding results while in charge of key brands.