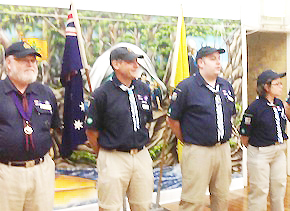 Three NSW Jewish scout Leaders have received awards from Her Excellency, Governor-General Quentin Bryce. 1sr August was World Scout Day and the 2013 Adult Recognition Awards for Good Service to Scouting were officially announced.
• Ben Politzer, District Commissioner of Fairfax District got the highest award available - the  "Silver Kangaroo-for eminent achievement and meritorious service".
• 3rd Rose Bay (Judean) Cub Scout Leader, Nick Wolf, received a "Silver Arrowhead - for excellent service ".
• Jacqui Marx - Assistant Cub Scout Leader 3rd Rose Bay (Judean) received "a Certificate of Merit-for good service."
In 2014, 3rd Rose Bay Judean Scouts will celebrate 50 years (with a variety of activities), while the year will also mark 90 years of Jewish Scouting in NSW and Victoria.