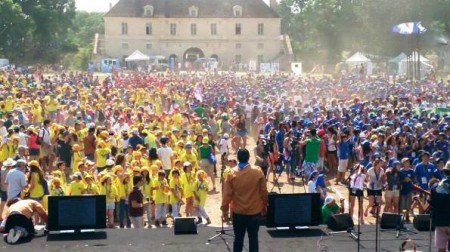 Éclaireuses éclaireurs israélites de France (EEIF - Jewish Scouts of France) marks 90 years. 
More than 5000 scouts and counsellors of all ages came together outside Bordeaux for the 90th anniversary of the Jewish Scouts of France. Old and new members took part in numerous cultural and sporting activities aimed at promoting a greater community spirit. 
It's one of the biggest youth movements in France, and perhaps also the most enduring. The Jewish scout association, set up in 1923, recently celebrated its 90th birthday. Active members and scout veterans flocked to the provincial town of Cussac-Fort Medoc outside Bordeaux for a weekend packed with energy and emotion. 
For the organisers the secret to the success of the Jewish scout association lies in its values: judaism, responsibility and citizenship.
Cultivating a sense of unity through enhancing Jewish identity, is one of the main aims of the association. The anniversary weekend was designed to bring Jews of all walks of life together.
But the scouting tradition of sport and activity was not neglected, much to the delight of many young campers. Four villages were set up according to different age groups: the under 11 cubs, the under 15 scouts, the under 17 rovers and a special village for veterans.
The gathering brought together Jewish scouts from around the world, as well as different religious groups. It was an attempt to honour the memory of the association's founder, Robert Gamzon.
His motto was that actions speak louder than words. And 90 years later, his foundation shows no signs of dying down. 
Since its creation in 1923, the French Jewish scouts association has sought to promote values of tolerance, respect and racial harmony, values that have been passed on from generation to generation, so that the Scouting tradition has become a real fabric of Jewish society.
90th Anniversary of Éclaireuses éclaireurs israélites de France