"If I am not for myself, who is for me? When I am for myself, what am I? And if not now, when?"
(Pirkei Avot – Lessons of the Fathers 1:14) 

 "Be among the disciples of Aaron, loving peace and pursuing peace, loving people and bringing them closer to the Torah."
(Pirkei Avot – Lessons of the Fathers 1:12)

 "If I forget thee, O Jerusalem, let my right hand forget her cunning. Let my tongue cleave to the roof of my mouth, if I remember thee not; if I set not Jerusalem above my chiefest joy!"
WHAT IS THE INTERNATIONAL FORUM OF JEWISH SCOUTS?
World Scouting today is a confederation of 162 National Scout Organizations in a network of over 40 million members in more than 1 million local community Scout Groups. Some 7 million are adult volunteers who support the local activities, resulting in a huge multiplier effect.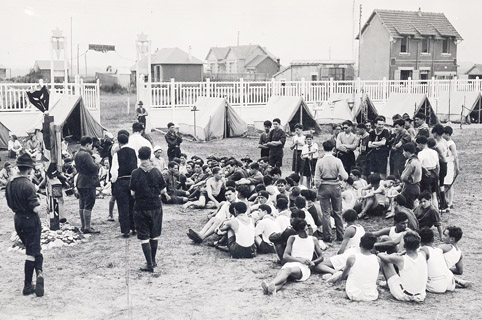 In 1931, Jewish scouts from across Europe came to France (Colleville-sur-Mer, Normandy) to participate in the first international Jewish scout camp. At the end of the event, the young participants decide to establish a "World Union of Jewish Scouting". This organization was unable to develop due to the tragic events that unfolded in Europe, beginning in 1933 and culminating in the Shoah.
On 2nd November 2006, the International Forum of Jewish Scouts (IFJS) was inaugurated in Jerusalem, Israel. Since July 2009, it has been confirmed as holding consultative status with the World Organization of the Scout Movement (WOSM). 
Ms. Ruth Ouazana is the IFJS' General Secretary.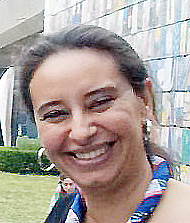 For seven years, Ms. Ouazana has served as the International Commissioner for the French Jewish Scouts / Eclaireuses Eclaireurs Israélites de France (EEIF). Ruth holds a MA in Private and Employment Law from La Sorbonne, and worked both as a Lawyer and Legal Journalist for seven years, before joining l'Alliance Israélite Universelle as Marketing and Communication Manager. Ruth is also the Founder and Honorary Chairperson of Limmud in France, the Festival of Jewish Learning.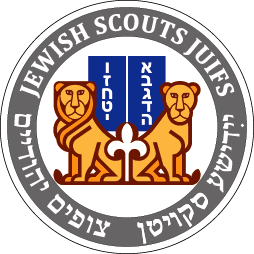 TSOFIM YEHUDIM, a Pan-European Project
 • The International Forum of Jewish Scouts (IFJS) brings together representatives of Jewish scouts from all continents: USA, Brazil, Canada, UK, France, Australia and Israel (more to come). The name "Forum" was chosen reflecting the desire to provide a focal point promoting dialogue, exchanges, and proposals among Jewish scouts throughout the world.
  • The second key objective is to share more than 100 years of experience in Scouting as a platform for Jewish education enabling youngsters in Jewish communities around the world to strengthen and enrich their Jewish identity.
  • The third objective via the World Scouting platform is to engage with our fellow scouts from other religions, in order to strengthen ties, expose the diverse faces of Judaism, and engage in dialogue and exchange.
JEWISH COMMUNITY LEADERSHIP FOR TOMORROW, 
THE "GLOCAL" ANSWER OF JEWISH SCOUTING
 OBJECTIVES AND METHODS OF THE INTERNATIONAL FORUM OF JEWISH SCOUTS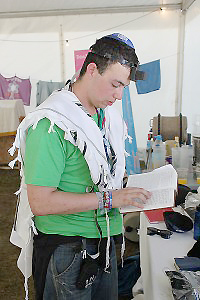 1. To establish ties between all the existing associations, committees, branches, or groups of Jewish scouts in order to:
- engage in dialogue among participants and exchange ideas on the main issues of concern to the Jewish people today
- strengthen and improve Jewish Scouting around the world
- initiate joint activities, such as a Jamboree of Jewish scouts
- exchange and edition of educational and training material
- publicize Jewish Scout activities within the Jewish world
- seek funding for the development and strengthening of Jewish Scouts groups
 2. To establish new local groups of Jewish scouts in Jewish communities around the world:
- to establish a non-formal Jewish education structure in communities in which there is presently no youth movement
- to develop local community leadership through leadership in the Scout movement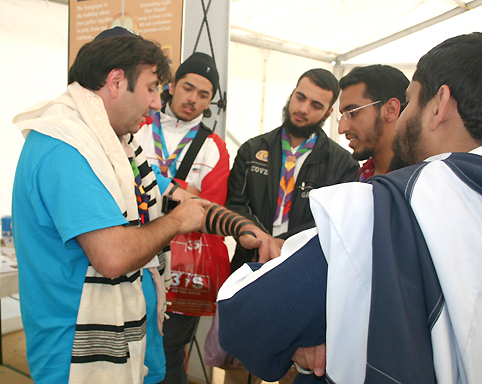 3. To represent Jewish scouts in contacts with the Scout movement and with other religions within the movement:
- to participate in international activities and present the Jewish voice
- to strengthen the Jewish identity of Jewish scouts attending international gatherings and meetings
- to establish and/or participate in various interfaith encounters initiated by the World Organization of the Scout Movement.